And I'm so thankful for it.
It's like a whole piece of me was
hiding in a closet or something.

I'm not sure where I'm going with these,
but I'm having fun playing.
A little texture building technique I discovered today:
The corrugated side of the coffee sleeve.
Perfect for dragging through gesso to build up texture.
I'll have a booth at the Queen Bee Market
this Friday and Saturday at the Del Mar Hilton.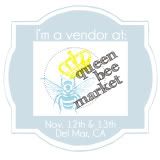 Come say hello if you're in the neighborhood!